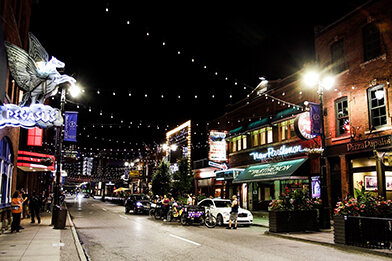 One of the most popular events we book vehicles for is going out on a pub crawl or bar hopping with a group of friends. When someone doesn't want to find a DD or can't find one we are the first idea that comes to mind. Detroit is not easy to get from place to place and with everything so spread out in the metro area we make everything easy for you. You'll get dropped off and picked up right at the door of the bars and you will never have to worry about finding a parking! And of course our buses have on board bars and coolers that you are welcome to stock with all your favorite mixers and alcohol for cocktails, beer, or wine, so you can keep the party going even while you're on the way to your destination. Unlike laws with drinking inside of cars, since we're a licensed party bus operator it's perfectly legal to have open alcholic beverages.
The amazing stereo systems, TVs, club-like lighting, and dance poles give our buses a VIP feel so if you need a break from crowded bars you can set up your own VIP club on the bus with your friends! And with unlimited stops and mileage included in your rental a spur of the moment trip anywhere in Michigan or Ohio is possible! Your night will be crazy and unforgettable when you book a party bus with Metro Detroit Party Buses!
You'll definitely want to check out some of Detroit's most popular bars, so we've listed a few of them below!
The Old Shillelagh 349 Monroe St, Detroit, MI | (313) 964-0007 Everyone has been here at least once, right? After a game? It's a popular Detroit destination that's always sure to be a great time!
Green Dot Stables 2200 W Lafayette Blvd, Detroit, MI | (313) 962-5588 A casual trendy Detroit Bar with private parking, free WiFi, delicious bar food, amazing drinks, and fantastic prices!
Detroit Pub Greektown 1326 Brush St, Detroit, MI | (313) 963-3500 A great Greektown bar is the Detroit Pub Greektown. Low prices and great drinks! Pool tables and everything you need to have an awesome night of fun! Live music some nights, so be sure to check it out!
The Bronx Bar 4476 2nd Ave, Detroit, MI | (313) 832-8464 A dive bar with cheap prices and delicious food and drinks. Vegetarian options are available. Put your favorite song on the Juke box and party the night away!
The Sugar House 2130 Michigan Ave, MI | (313) 962-0123 The Sugar House is a trendy Detroit lounge. This place is on the pricey side. They specialize in craft and classic cocktails and offer several European beers and natural wines. If you don't mind paying the prices, it's a great place to check out!
Cafe D'Mongo's Speakeasy 1439 Griswold St, Detroit, MI If you like to drink for low prices and eat delicious soul food, then check out Cafe D'Mongo's Speakeasy in downtown Detroit! This place is only open on the weekends, but what better time to barhop anyway?
Cliff Bell's 2030 Park Ave, Detroit, MI | (313) 961-2543 Jazz fans will love Cliff Bell's! This awesome lounge is a great place to enjoy refreshing, delicious cocktails and life jazz music. It's a classy joint you'll want to dress up for. Valet parking is available.